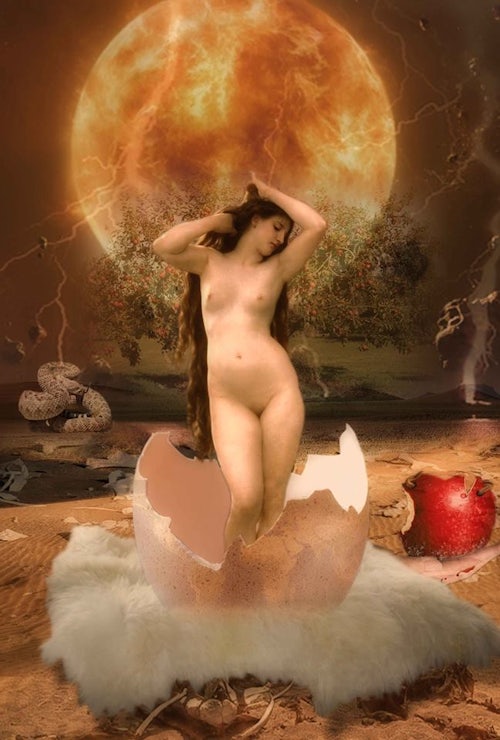 "Venus/Eve"
Inspired by Salvador Dali. Detail from digital collage.

The human woman, the female, is often depicted in Wilhelmina's work. The female is shown in many pieces as not only being a beautiful and intrinsic form on the outside (the flesh), but a deep and meaningful soul with thoughts, hopes, and feelings (the depth).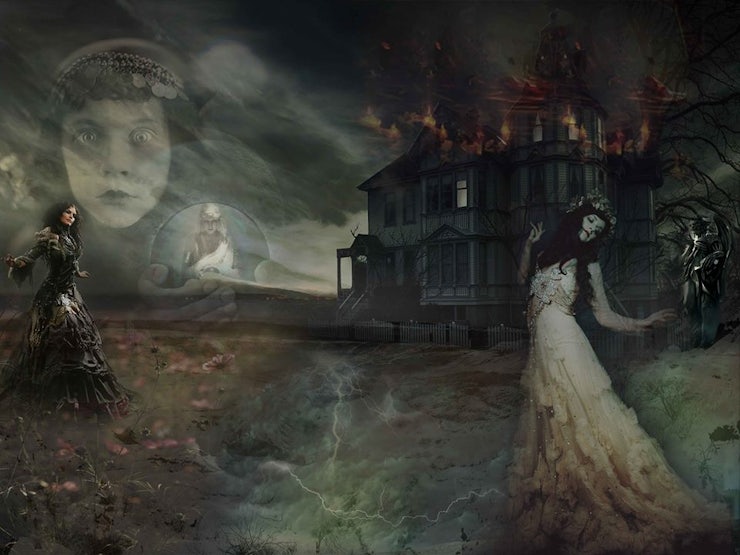 "The Sorceress' Spell"
Digital collage.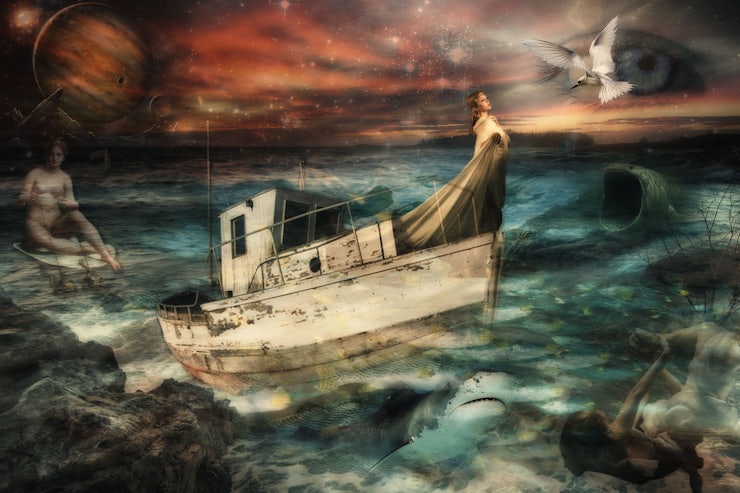 "Invictus"
Digital collage.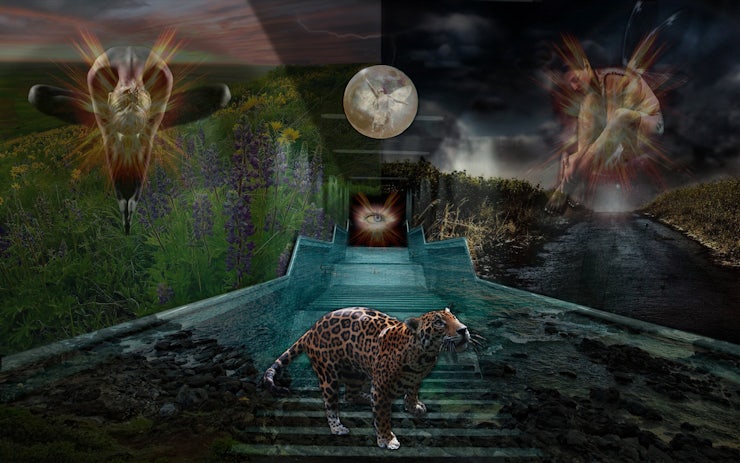 "The Beast Within"
She who is one with the earth but travels an unknown path. She who is the goddess in the moon and all seeing eye. She who has the heart of a tiger - strong, powerful and protective. The beast within - she is woman.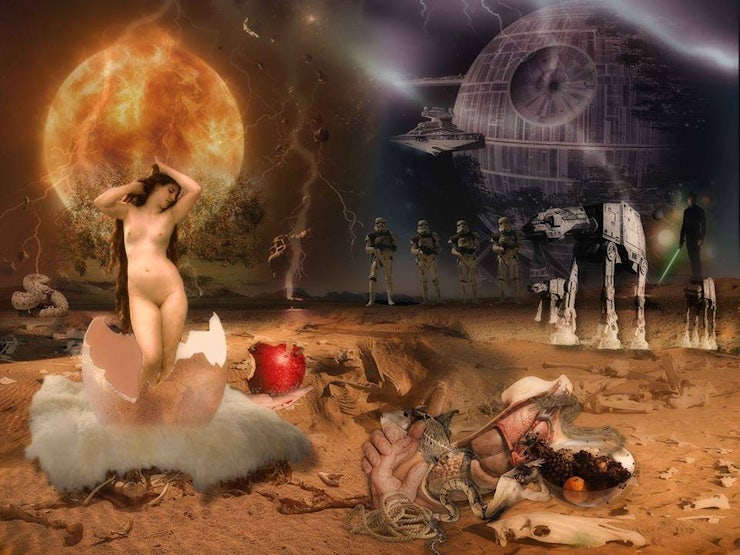 "Venus/Eve"
Inspired by Salvador Dali. Digital collage.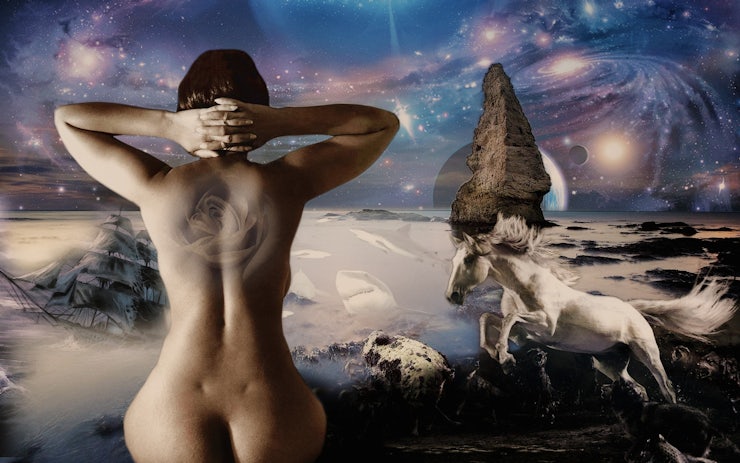 "Yearning"
She waits for her man at sea as the heavens beckon and shine on. There is the scent of danger in the seas and on land. She's exposed and vulnerable but she awaits open-armed, baring her soul.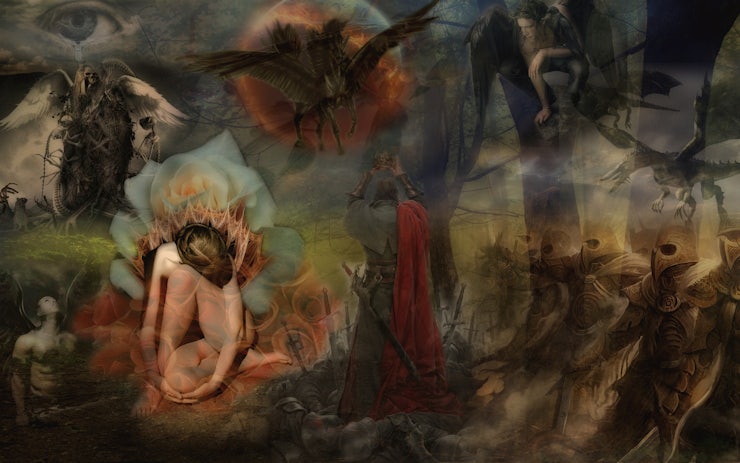 "A Rose Amongst Thorns"
She sits amongst the most fearful of creatures who prey on her. They have lined up to conquest. They hang in the trees, brazen. They fly to her threatening her tender heart. Their dark souls speak languages she doesn't comprehend. Yet she folds her limbs up as a flower whose petals curl up in the eve to protect her fragile self. She has the strength of wings that will take her to where she needs to go and because of that she will endure and prevail.

My photography has appeared in: Fairfield Magazine, Wilton Magazine, Connecticut Post
I have exhibited at: The Power of Colors: Art in Public Places, Stamford; Wilton Library "Focus"; Fairfield Library; Carriage Barn Art Center, New Canaan; Purdue Employee Art Exhibit; Milford Fine Arts Council, Firehouse Gallery as well as The Harborview Market, Bridgeport, CT -- a solo exhibit the entire month of July, 2013 and City Lights Galley in Bridgeport. In 2016, she had some artwork exhibited at the University of Bridgeport Alumni Art Show (2016) and at Arts About Town - Westport (2016). In 2017 a solo art show at Rockwell Art & Framing in Westport, CT.
Member of:
National Federation of Press Women
National Association of Photoshop Professionals
Connecticut Press Club
American Institute of Graphic Arts
Milford Fine Arts Council
Wilton Arts Council
Westport Arts Center
City Lights Gallery
Venice Art Center